As the situation of COVID-19 epidemic is becoming stable in China, various industries have gradually begun to take measures to cover the losses and stimulate consumption. So as the tourism industry.
As a pioneer in the recovery of consumption in the post-epidemic era, large catering enterprises such as Haidilao Hot Pot have just went through a public crisis due to raising its prices on the menu, which have caused dissatisfaction among consumers. As a major factor of the consumer market, tourism has become the focus of society. Coincided with the Labor Day Holiday, everyone is wondering whether the first wave of recovery of the tourism industry could be witnessed while fighting against the epidemic.
5.6 billion vouchers were distributed online to accelerate the resumption in post-epidemic time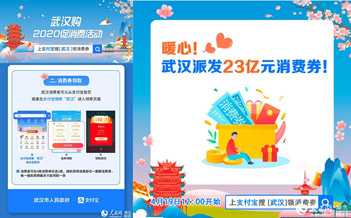 Wuhan Voucher introduction at People.cn
(Source: People.cn)
In order to cope with the impact brought by COVID-19, local governments in China have recently introduced policies on promoting vouchers. By implementing such procedures, financial funds have been utilized to boost residents' enthusiasm for consumption and stimulate domestic demands. With a marketing environment where consumers' passion is sluggish, vouchers are regarded by many small and micro merchants as the engine of recovery in the post-epidemic time and are expected to boost the Labor Day holiday travel consumption. Overall, more than 30 provinces and cities in China have rolled out 5.6 billion yuan worth of digital vouchers.
The value of vouchers issued in the Guangdong-Hong Kong-Macao Greater Bay Area occupies the top spot in Mainland China
Many cities in Guangdong province have announced to distribute vouchers to consumers since April. The total value will exceed 1 billion yuan, making Guangdong rank as No.1 province with the most voucher issuing cities in mainland China. Among them, 100 million yuan of tourism vouchers issued in Zhuhai City will be distributed to local citizens and tourists by a series of approaches including appointment, registration, and lottery draw from April 20th.
The vouchers issued in East China region has remain its style of "Comprehensiveness"
Jiangsu province has issued vouchers worth more than 10 million yuan. Among the cities in Jiangsu, Nanjing delivered vouchers not only early, but also meticulously, including electronic rural tourism vouchers totaling 13 million yuan. The 5A-level scenic spot - Confucius Temple issued tickets on official platforms such as "Qinhuai Release" and announced a "Buy one ticket get one for free" policy, which provides a positive example for the resumption of the scenic spots. The Zhejiang Qiandao Lake Spring Tour and Products Promotion event launched on March 18 also attracted widespread attention. The first batch of 50,000 Qiandaohu tourism vouchers was initially distributed on Alipay. The vouchers include tourist attractions, hotels, homestays, sports and leisure, food and beverage, Qiandao Lake's agricultural products and other major tourism consumption perspectives.
Other provinces and cities that showed outstanding performance in terms of issuing tourism vouchers are Jiangxi Province and the city of Urumqi
On March 19, the Press Office of the People's Government of Jiangxi Province issued the "Notice on Generate a Mix of Solutions to Boost Tourism Consumption", which is welcomed by the netizen. The notice requires that all units in Jiangxi Province will try out a 2.5-day flexible weekend in the second quarter of this year. The province's 5A-level, 4A-level scenic spots and 5A-level rural tourist spots will sell half-price tickets for tourists on Friday afternoon. Electronic vouchers worth 10 million yuan will also be placed to stimulate tourism consumption.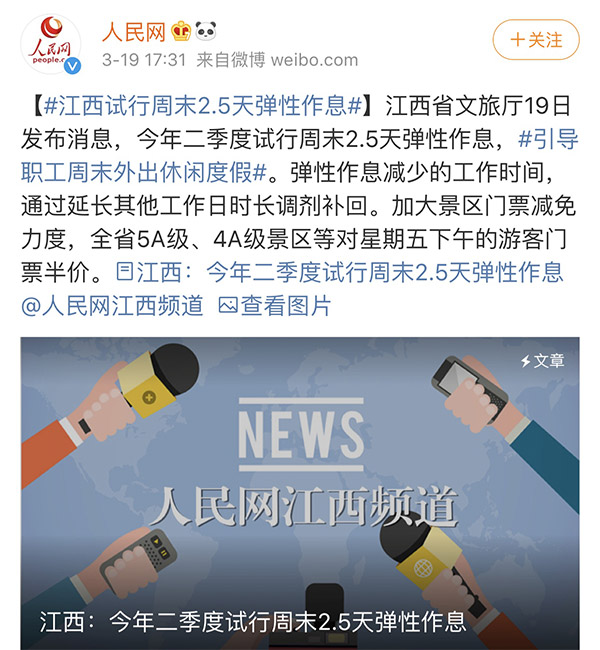 Jiangxi Province introduced the pilot policy of a 2.5 days flexible weekend
(Source: People.cn)
Urumqi issued 50,000 tourism vouchers to the public. Tourists can use the vouchers for designated tourism consumption in 7 scenic spots like the Tianshan Grand Canyon, including the tickets, sightseeing high-speed cable car tickets, special catering packages, etc.
After the lockdown was lifted in Wuhan, the vouchers issued were mainly focusing on the recovery of the consumption level of local residents. Among the first 30 million yuan vouchers, supermarket coupons are the most popular, which were sold out within 45 seconds. Besides, vouchers in Chongqing, Shandong, Henan and other provinces and cities have also been scheduled.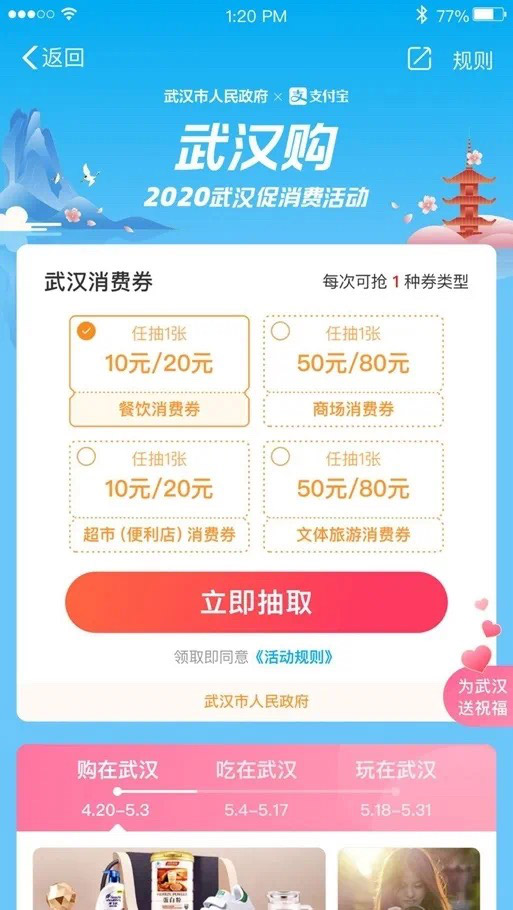 Wuhan Voucher application site at Alipay
(Source: Alipay)
The vouchers brought benefits for consumers, along with possibilities to accurately assist the industries
Vouchers injected fresh energy into different industries and support economy recovery strongly. According to reported statistics, the vouchers issued by Hangzhou have been written off 220 million yuan, driving consumption of 2.37 billion yuan, with a multiplier effect of 10.7 times. The city of Urumqi issued the first stage tourism vouchers to the society, and the number of vouchers received in 2 days has reached 10,126. On the weekends right after issuing the vouchers, some places in the seven scenic spots where the tourism vouchers could be used, saw an increase of more than 50% in tourist volume than usual.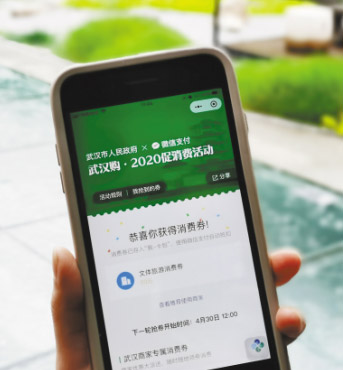 A Wuhan citizen applied for vouchers successfully
(Source: Alipay)
The issuance of vouchers has positively stimulated consumers' enthusiasm, but for the field of cultural & tourism, issuing vouchers still need to be cautious. As an industry hit hard by the epidemic, the tourism industry will stay in the bottom for an extended period under the normalization of epidemic prevention and control. To enable consumers to use the vouchers on the tourism industry through accurate distribution, strengthened coordination between local government departments and tourism enterprises will be needed. At this stage, residents have a high level of enthusiasm for FMCG, catering, and shopping mall vouchers, but their attitude towards the consumption of tourism products is still very conservative. Obviously, short-haul travel still needs further assistance of issuing vouchers.
In addition, it is not enough to rely only on vouchers to attract consumers. For businesses, the function of vouchers is to create needs rather than sell products. How to instill ongoing confidence among consumers is more noteworthy. For scenic spots and hotels, the ways to balance epidemic control and resumption of work under the voucher upsurge also requires in-depth research.
Travel agents are facing great difficulties and obstacles under this epidemic. In addition to insisting on coping with the situation, it is also crucial to properly leverage the government's support policies and strictly follow the market recovery trend. After the Labor Day Holiday, we are looking forward to hearing good news about the recovery of the tourism industry and enterprises.